Office removals and relocation can be a stressful task, but with Aaron's Removals, we provide the care and expertise to make your move a seamless process. From small to large businesses and everything in between, we have the experience needed to keep any business running with minimal disruptions.
We provide full service or partial service options for office removals. From packing, loading and moving and unloading all your goods, we have you covered to the last detail. We understand that moving offices is different from moving houses and provide the exact services to suit your business.
We can pack your entire office as well as supply packing supplies if you wish to conduct some of the packing yourself.
Aaron's Removals carries out and are not limited to the following office removal services:
• Packing stationery, books, files and all other office goods
• Dismantling, transport and reassembly of all office furniture
• Placement and set up in the new premises in time with business commencement
• Disconnection and reconnection of computers and some IT systems
• Asset disposal Secure document storage and destruction of sensitive paperwork
With over 40 years of experience in office removals, we have established strong industry contacts and can also arrange furnishings for your new office if required. If you're looking for a reliable and efficient office removal service, contact the team at Aarons Removals.
Frequently Asked Questions:
How do you relocate an office?
There are many different reasons why businesses may want to move offices, including to lower real estate costs, be closer to your target market, be in closer proximity to skilled employees or simply to improve the lifestyle and culture of the business (that beach view does sound nice doesn't it).
Office removal can often involve: Communicating possible new locations with your employees and stakeholders and your reasons behind moving, budgeting the costs of the move, creating a moving plan, contacting and appointing an experienced office removalist company, figuring out a realistic moving timeline, taking photos and cataloguing all items and assets that need to be moved, carefully performing the relocation (ideally during a slow period for the business), arranging a clean-up crew for the old location and updating your address and other new contact details.
How early should I start planning for an office move?
Ideally, you should start planning for the move as early as possible to enable a smooth transition. Always keep in mind that interstate relocations will take much longer than local relocations.
How much does it cost to move an office?
Pricing for interstate moving is largely based on two factors; where it is going from and to, along with the volume of goods being sent. Other factors which affect the pricing include access conditions, dates and the extent of service.
Get in touch with the friendly team at Aaron's Removals and we can provide you with a quote and answer any questions that you may have.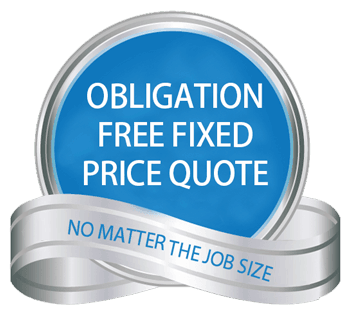 Send an Enquiry